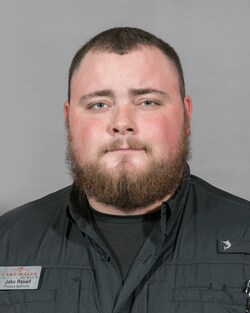 Our Agricultural specialist Jacob Revell helps local farmers and ranchers blaze their own trail with special programs for Ram Trucks in Central Florida.
When it comes to needing help on the farm, Jacob Revell at Lake Wales Chrysler Dodge Jeep RAM is the person to see.
He is proud to be the commercial retail salesperson who manages the BusinessLink program and is also the agriculture dealer program manager.  Jacob is a Ram Certified Ag Dealer specialist whose extensive background means he not only knows the equipment, but also knows what it's like living the ag-life.
"I've had a background in agriculture ever since I was a young kid," he says, having worked on cattle groves, horse ranches, and more.  He has been selling RAM trucks at Lake Wales Chrysler Dodge Jeep RAM for years and has been fully trained to be an ag specialist.
"It's important to understand what the customer needs.  If you call up and tell me I need 10 trucks from our dealership, I will ask the important questions."  Jacob knows that if a customer is interested in a certain truck, it's his job to find out what the customer wants and make recommendations using that information.  "It's not just about taking an order," he explains, "but it's also about helping the community we love, thrive and grow."
"I've saved people money over the years listening to what they need.  I know enough from an agriculture aspect that I can put two and two together saving them thousands that can be used towards their family and agribusiness."
Jacob is a little different than most auto dealer professionals.  He spends a lot of time doing direct correspondence.  He goes to many ag customers, small businesses, as well as grassroots organizations to help his customers.  "I'm probably more of an outside sales consultant than most," he says.
Jacob also expressed that when coming to Lake Wales Chrysler Dodge Jeep Ram, there are advantages for farmers that many other dealers can't provide.
Exclusive Benefits Like BusinessLink and the RAM Ag Pack
With the BusinessLink program, for example, participating farmers are offered exclusive options at the dealer.  There is also the extremely beneficial Ram Ag Pack.  "It works whether you're a mom and pop farm or a million-dollar farming operation," he says.  "If you have agriculture on your income taxes and you buy a RAM you can get a lot for free."  Some of those free items include $1,000 towards AgroLiquid crop nutrition, industry-exclusive financing, and a $1,000 discount on a Reinke Center Pivot irrigation system.
For those looking to get more help on the farm, call Jacob at 888-519-3520 or email him at jacob@mahalakautogroup.com.  For those interested in seeing the Ram inventory, you can stop by our Ram dealership off Highway 27 North and ask for Jacob or any of our Five Star sales team to assist you.